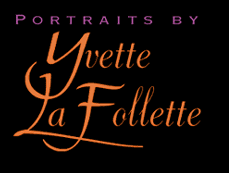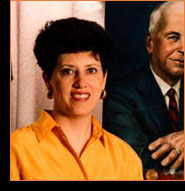 Yvette La Follette has a realistic style that blends past traditions with a contemporary twist — going beyond recording a mere likeness of the individual. She strives to capture character and personality, thus excelling in creating a natural pose illustrating the subjects' traits. Her portraits are exquisite, sensitive and true to life.

Yvette always knew she wanted to be an artist. When she started painting at age 12, her parents provided needed materials and private lessons. Following a BA from Marietta College, Yvette earned an MA from West Virginia University at Morgantown, WV, with a thesis in portraiture. Prior to graduation, she held a one-person show, exhibiting 29 portraits painted over a 2-year period. Post-graduate studies have been at Cincinnati Art Academy and with Daniel Greene, Thomas Nash, Susan Sarback, Charles Soveck, David Mueller, Carl Samson, Shalmah Prince, and John Howard Sanden. She met Shalmah at a class taught by Floyd Berg, Gene Hinckley and Shalmah. As a result of this association, Shalmah acted as a mentor, urging Yvette not to be passive about her abilities and guiding her career.

A commission to do a portrait of one of the Cincinnati Bengals gave Yvette an entrance into the Bengals community. A number of her works have been auctioned at their annual "Bengal Bash" which benefits the Kidney Foundation. She has painted players from both the Cincinnati Bengals and Cincinnati Reds.

Following up on a suggestion made by a New York Supreme Court Justice, Yvette became involved in the Anderson Township Bicentennial celebration and was subsequently named official portrait artist. She was commissioned to do ten portraits. The Heritage Center of Anderson Township now houses these paintings.

Yvette has exhibited at Clermont Community College, Cincinnati Nature Center, the Town Club, Mason Fine Arts Gallery, The Bankers Club, Closson's, The Galleria at Chevy Chase (Lexington, KY), The Horse Park (Lexington, KY), The Art Show at the Dog Show (Whichita, Kansas) and Marietta College, where she was a featured speaker on "The Business of Art." She teaches oil painting in a mentoring program for Turpin High School (Cincinnati, Ohio), and was Cincinnati Art Club Special Projects Chairman for several years.

Awards include:
National Oil & Acrylic Painters Society
Finalist in Artist's Magazine 2007 competition (Top 50 out of 8,000 entries)
Montgomery Kiwanis Annual Art Exhibition
Women's Art Club of Cincinnati Club Award
Cincinnati Viewpoint Awards
Animals in Art Show Award
Gallery Affiliations include:
Kada Gallery (Erie, PA)
The Point Gallery in Prospect, KY (Louisville, KY)
Closson's Gallery (Cincinnati, OH)



ABOUT THE ARTIST I PORTFOLIO I TESTIMONIALS I PAINTINGS FOR SALE I CONTACT INFO & PRICING I HOME PAGE
© Copyright 2009 Yvette LaFollette. All Rights Reserved.